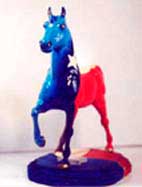 Horses of a Different Color,
Having Fun with Model Horses

The first "Cow Parade" in the U.S. was in
Chicago in 1999. When I saw the painted
cows I thought, "We should have painted horses."
I had an old model horse (Made in China) Breyer Knock-Off.
I painted it with the Texas flag on one side and Texas stuff on
the other such as the Alamo, bluebonnets, cactus and the
Space Shuttle. I called it the "Lone Star Pony". I put a picture of
it on my website and took the original to a horse show.
"Lone Star Pony" sold at the horse show and when I got
home someone had ordered one from my website. All I had
was the one! I had to make more.
Soon I was painting model horses with the American flag, hot rod flames, world map, themes like fox hunting,
Army camo, and more. Art themes: Picasso, van Gogh, Klimt.
Historical themes: Ancient Greece, Ancient Egypt.
The models can be customized beyond recognition of their
original source. Example. Or they can be customized to look like your horse in a "Mini Portrait.



Custom Portraits
on Breyer Models

Scroll down the page and browse through the possibilities.