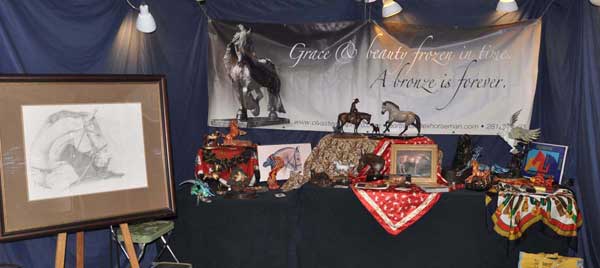 "ON THE ROAD"
with Olva Stewart Pharo

---
MAY, 2023

It is a new year and things are getting back to normal. Competitors are returning to shows and spectators are coming out again.

2023 Pin Oak Charity Horse Show was a 4 week event:
week one, the Breed show and 3 weeks of hunter/jumpers.
The Third Coast Bank $100,000 Grand Prix on Saturday night,
April 15, reminded me of the old dyas of Pin Oak.
A crowd filled the stands at Great Southwest Equestrian Center,
Katy, Texas, to watch a field of over 20 horses compete
for the blue ribbon. It was Nicolas Gamboa and Mr. Darcy who
brought it home.





RYBACK PHOTO


It was a wonderful evening of exciting competition
and beautiful horses.
A fitting climax to the 77th Pin Oak.

---
NOVEMBER, 2022

Time to award the Super Series Group's trophy for the
3&4 Year Old Freestyle Performance Class Champion,
November 2-6 at Great Southwest Eq. Center,
Harvest Hunter Jumper Show.
The trophy and the take-home medallion will be there.



---

SEPTEMBER, 2022

Might see you at the
2022 USDF Region 9 Championships,
Houston Dressage Society Autumn Classic and
Southwest Dressage Classic
at Great Southwest Equestrian Center,
October 6-9. My last HDS trophy:
HDS Autumn Classic Adult Amateur
High Point Award
has run out of room for plates.
This will be the last year
for that one. Need a new idea for
an award for adult amateurs.
Any suggestions?


---
FEBRUARY, 2022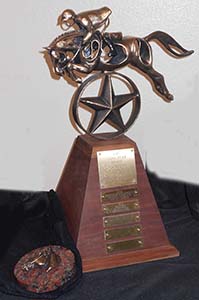 Third annual Great Southwest Equestrian Center's
Texas Winter Series was totaly "sold out"
for all four weeks. Inspite of the crazy Texas weather
(cold for three days; warm to hot for one day;
then back to cold) the competitors were
stalwart and cheery.
Even on the last night of the
$100,000 Lone Star State Grand Prix,
the arena seating was packed
to watch 18 rouunds over the course.

---
APRIL, 2021

75th ANNUAL
PIN OAK CHARITY HORSE SHOW
March 24 - April 11 at
Great Southwest Equestrian Center.

The 2021 Pin Oak Charity Horse is a wrap.
Not so many spectators but lots of competitiors.
Breeders and riders were honored.
Olde Oaks Farms' Montego was the winner of
the Jane QUeener Best Young Horse Award.
Australian Show Jumper, Rowan Willis took the
$100,000 Grand Prix win riding Ashton Dakota.



COVID rules for competitions licensed by
the United States Equstrian Federation:
No spectators allowed at USEF licensed shows.
Following the USEF rules only persons
directly connected with competitors:
immediate family, trainers, grooms, drivers
may attend the show.

Everyone must wear masks
except when on horseback.
You don't have to miss the excitement.
Go to the steaming service,
Horse And Country and sign up.
Horse And Country

We all look forward to 2022
when we hope to see a return of normality.
But at least the 2021 Pin Oak will go on.


---
FEBRUARY 27, 2021

Made it out to
Great Southwest Equestrian Center
To present the trophy
for the $100,000 Lone Star State Grand Prix
Winner: Daisy Ford on Gatsby

---
NOVEMBER, 2020

Will be out at the
Great Southwest Final Chase H/J Show
To present a trophy:
SSG Texas Super Series
3 Yr-Old & 4 Yr-Old Freestyle
Perfromance Champion
on Thursday, 12 November, 9AM.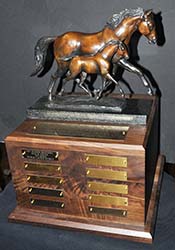 Perpetual Trophy


Take-Home Medallion
---
OCTOBER, 2020

Time for the
Great Southwest Monster Mash H/J Show.
Come join the fun.
Halloween Costume Contest
on Saturday, 17 October, 6PM.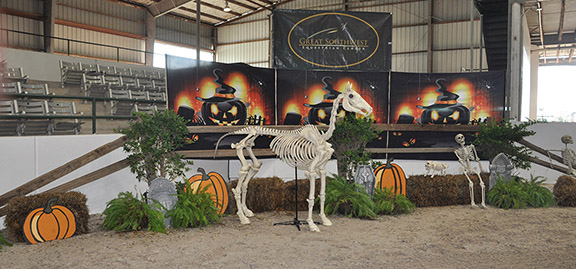 Made it out to Great Southwest to see some of
the USDF Region 9 Championships and deliver the
HDS Autumn Classic Adult Amateur High Point Trophy.
It will be retired in 2022.


---
AUGUST, 2020

Many horse shows have re-opened.
Many shows have been cancelled.
USEA cancelled AEC Championships.
USEF, USDF, USHJA, & AQHA have COVID-19 protocols.

Wear a Mask. Stay safe. Socially distance.

No information has come out about Imfections
spread at the shows that have
opened up. Only time will tell.

For now, I am staying home.


---
All Horse Shows recognized by
the USEF, USDF or USEA and related
educatiional events have been canceled
or postponed through May 3, 2020.
Please contact the manager of any show
or event you were planning to attend
for further information.

The 2020 Olympics scheduled for July, 2020
in Tokyo, Japan, have been
postponed until 2021.

CANCELED!!!
75th Annual Pin Oak Charity Horse Show
Was to begin March 18 and run thru April 5 at
Great Southwest Equestrian Center, Katy, TX.
Benefiting Texas Childrens' Hospital.

Three weeks of Premier Horse Showing
CANCELED by the USEF becuase of the
CORONAVIRUS PANDEMIC.

Horse shows all across the country have been canceled.

March Madness has been canceled.

NBA has canceled.

SXSW has been canceled.

Houston Livestock Show & Rodeo has been canceled.

People have been told to stay home.

Restuarants and bars have been closed.

Hunker down and stay safe.


---
The Texas Winter Series marked a milestone
for this 4 week Hunter Jumper Series.
Great Southwest upped the ante on their
4 Jumper Grand Prixs -
Week I $25,000; Week II $50,000.
Week III $50,000 and Week IV $100,000.
To mark the occasion a special trophy was designed for
The Lone Star State $100,000 National Grand Prix.
See photo of trophy.
The girls showed the boys
how to do it. The winner was
16 year-old Brooke Peterson.
---
2019

---
I am not a techy. I did learn HTML (becasue it is so much
like Type specking) but my computer died
and could not be fixed so I had to buy a new one
and everything had to be updated and so forth.
Anyway, I now have something working.

No more booths. But I will be at the shows.
Mostly doing trophies. I still do portraits. Just email me
at portraits@texhorseman.com.
Also for trophies and limited editions.
Take a look at the bronzes I have for sale.

Last week at the Britannia Monster Mash
my horse Silver helped out with the Halloween display.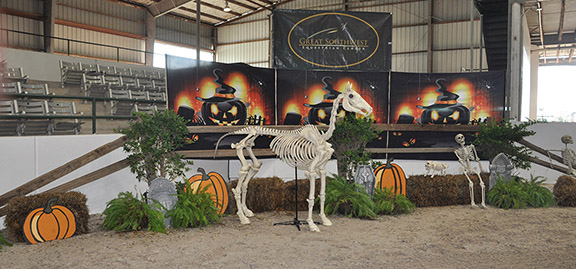 There was a dog (and 1 cat) costume contest,
a horse and rider costume contest
and riders were encouraged to wear costumes.
Everyone had a good time.


---
74th Annual Pin Oak Charity Horse Show
begins March 20 and runs thru April 7 at
Great Southwest Equestrian Center.
Benefiting Texas Childrens' Hospital.
First week includes American Saddlebred Horses,
5-Gated and 3-Gaited, Hackney Ponies
as well as Hunters and Jumpers.
Week II & III are Hunter Derbys and
Jumper Grand Prixs
and Amateur, Childrens and Junior
rated hunter & jumper classes.
Go to: GSEC for more information.

---
Made it out to Great Southwest for some of the
Texas Winter Series. Four weeks of top hunter/jumper showing.
The weather was up and down but the new footing
proved to be exceptional for those
fast turns in the Grand Prixs.

---
2018

---
Had a great time at Great Southwest's
Final Chase Grand Prix. Matt Cyphert did it again.
He won last week at the Autumn Classic, too.
Very nice 3 weeks of H/J Shows in Katy.

---
Time for the Fall Shows

Southbound's Harvest H/J Show is in the bag.
Great weather and good fun and some fine horsemanship.
All at Great Southwest Equestrian Center.

On to the GSEC Autumn Classic, November 7-11.
Don't miss the the 3rd annual
Great Southwest Golf Cart Grand Prix,
Friday, November 9.
And $25,000 Great Southwest Eq, Center Grand Prix,
Saturday, Nov. 10. See you there.


---
Pin Oak 2018 has come and gone
March 21- April 8, three weeks of
first class horse show competition.
Bigger and better than ever.

---
In 2018
I will not be having a booth
but I will be around the shows
at Great Southwest.

---
2017
HARVEST H/J SHOW @
GREAT SOUTHWEST EQUESTRIAN CENTER
TEXAS SUPER SERIES
HUNTER BREEDING CHAMPIONSHIPS
Super Series Champions
---
GAIG/USDF REG. 9 CHAMPIONSHIPS
HDS AUTUMN CLASSIC
SOUTHWEST DRESSAGE CHAMPIONSHIPS
October 5-8, 2017
WInner of the Houston Dressage Society
Adult Amateur High Point Award
was Samantha Farrow.
---
2017
It's Rodeo time in Houston!
March 7-27.

72nd Pin Oak Charity Horse Show,
benefiting Texas Childrens Hospital,
Ronald McDonald House of Houston and
Candlelighters Childhood Cancer Family Alliance,
March 22 - April 2, at
Great Southwest Equestrian Center, Katy, TX.

Week I is the breed show with
Saddlebreds and gaited horses
as well as hunters and jumpers.
Week II is all hunters and jumpers.
See you there.

March 23-26,
Alamo Arabian Spring Fiesta Horse Show
at San Antonio Rose Palace, San Antonio.

Go to
Texas Horseman's Directory Show Schedule
for more show information.

Four weeks of Hunter/Jumpers to come at
the Tyler Four, Texas Rose Horse Park in Tyler
with four shows produced by
Southbound Show Management,
April 26 - May 29, 2017.

February 1 - 26, 2017.
Great Southwest Equestrian Center
2017 Winter Series,
was a great success.
See you there in 2018!

---
NOVEMBER, 2016

Just spent three weeks at Great Southwest Equestrian Center:
Patrick Rodes Harvest Show (first time at GSEC),
GSEC Autumn Classic and The Final Chase. Lots of
horses and lots of people.

Have to go to these shows just to know who all the new
riders are. Nowadays I am watching their grandchildren ride.

During all three shows GSEC was trying out a "Rider's Lounge"
in the Texas Children's Hospital Arena Club. Great lunches
everyday, professional massages, charging stations, a cool
or a warm place to sit and eat or study or get a little
business done. In the three weeks we enjoyed the A/C as
well as the warmth. Crazy Texas weather.

Looking forward to next year.

---
Fun time at the
GAIG/USDF Region 9 Dressage Championships/
Southwest Dressage Championships/
HDS Autumn Classic at
Great Southwest Equestrian Center, Katy,
October 6-9, 2016.

Brought along a new "friend" for my booth
and did he get some notice.
Hope everyone who got
a "selfie" with "Bones"
uploaded to FACEBOOK.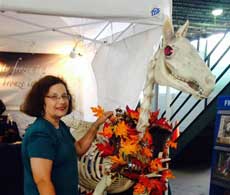 Photo courtesy of Kayce Douglas, GSEC Director of Marketing.

Maybe Bones will have to acompany me to more shows.

---
Been spending most of my time of late,
driving back and forth from Cypress to Dripping Springs.
We are finally going to get started on our new home.
Finally have a road down to the house site.

Now the electric can come in, the engineers can take
their core samples, the water well company can drill,
the septic people can take their soil samples and the barn
builder can mark where the pad will be. All of this was waiting
on a road. That's what happens when you build on raw land.

I will finally have a view.


This has been an amazing experience and we have just gotten started.


---
EDITORIAL - Flooding, Again!
May 25, 2016, marked one year since the devastating flood
on the Blanco River in Central Texas.

April 15, 2016, brought flooding to
southeast Texas along Cypress Creek and
the Brazos River. Places that had never flooded
before had 3' of water in their homes.
We paid the cost in human lives, as well as,
livestock lost. In the Houston area Hwy. 6 west
of town was closed for weeks.

Now, barely a month later, Brenham
received 14"-18" of rain in one day.
Spring Creek rose out of its backs
and homes and property that had been
flooded only a month before
were flooded again.
Roads were impassable north of Houston
as other creeks and bayous rose.

Off Hwy. 290 west of Houston 100's of cattle
that grazed along the Brazos Valley
were lost or drowned.

North Texas has been getting weather
we associate with Oklahoma, Kansas and
Nebreska: tornadoes and huge hail.
This is a time to help your neighbor
and do what you can to be safe.

But why is this happening here?
We have lived on our little three acres
in Cypress for almost 24 years.
Never have we seen flooding like this.
We used to be "out in the country".
Few houses, lots of pine trees.
The nearest chain grocery was a
20 minute drive away.
It didn't bother me. I liked the peace and quiet.
Hwy. 290 was still a 4-lane ground level
highway with a wide grassy ditch in the middle.
There was little past Cy-Fair High School
but farms and pasture until you got to
Hockley and Waller.

Sound familiar?
Was your property 'way out in the county?
An easy 30 minute drive from town.
All that open ground used to soak up a lot
of water and runoff. 25 years previously
we saw our first 50-year flood of the
Brazos River at Richmond.

Urban sprawl and lack of zoning brought developers.
It was cheaper to build in the county.
Lower taxes, fewer restrictions.

People loved the beautiful tall pine trees,
the quaint lanes through the forest.
But they loved their comfort more.
They were commuters. They did not stay
there all day, tending their livestock,
giving riding lessons, caring for their
breeding stock. They got in their cars
everyday and drove 25-30 miles into
the city. They began to hate the narrow
picturesque roads and clammered for wider
streets and traffic lights.

They didn't like having to drive 20-30 minutes
to shop so they brought their stores and
strip centers and added more concrete.
Soon the area looked just like any other part
of Houston.
Gone were the towering pine trees
to make room for wider streets and
more shops and more houses.
What trees were left, now unprotected
by the forest, died in the drought.

Now our pastures are flooding.
Our livestock is drowning.
Because the creeks can no longer handle
the run off from acres of concrete and 1000's of rooftops.

Virginia passed the Open Space Land Act:
"The Act preserves rural areas and
combats sprawl by providing a way for
landowners to permanently protect the
Commonwealth's rural lands from urban
and suburban growth."

That's in VIrginia. What about Texas?
What can we do to preserve our
open-spaces and farmland?


---
The 71st Pin Oak Charity Horse Show
March 22 - April 3, 2016
at Great Soutwest Equestrian Center,
Katy, was an exciting two weeks of
breed shows featuring
American Saddlebres, Hackneys, Standardbreds,
Andalusians & Lusitanos as well as
hunters and jumpers. The crowds came out
to see the grand prixs and hunter derbys.
All for a good cause: Texas Childrens Hospital,
The Ronald McDonald House of Houston
and Candlelighters.




Irish Day Farm,
a major Pin Oak sponsor,
had a great show.
The portrait of Katie's beloved
Prince Charming graces
the center of their display.
I was privileged to do the
portrait so many years ago.





2016
Calaveras County
Perpetual Trophy,
$10,000 PIN OAK
INVITATIONAL
HIGH ADULT AMATEUR
JUMPER CLASSIC
awarded to
Montana Holmes
on MTM CHER.









---
The Texas Winter Series
February, 2016
at Great Soutwest Equestrian Center,
Katy, was a success.
Good weather prevailed this year.




Photo by Jerry Mohme Photography

Claudia Ballesteros'
Copa Cabana 23 shown by
Tony Font.
$10,000 International Hunter Derby
Champion at Texas Winter Series
Week IV at GSEC





Bronze awarded to winner.
Relief hunter head mounted on 4" x 4" marble squae.









---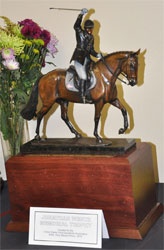 The Jonathan Wentz Memorial Trophy
was presented at the U.S.Para-Equestrian
Association Championship show.
The trophy, commissioned by Tina Wentz
for the USPEA, was two (2) years in the
making. The finished trophy is a bronze of
Jonathan on NTEC Richter mounted on a
granite and walnut base. 23" tall. Brass plates
will be engraved with the name of the winner,
the discipline and the year: dressage, driving,
vaulting, etc.




Look for my billboard at Great Southwest Equestrian Center, Katy, TX. It is right near the main arena entry gate; the one with a jumper on it.

Visit About the Artist for the progress of new sculptures and commissions.

---
. . . .and I will miss having Missy take a nap in my tent.
Missy has become a pampered house cat.
I'm sure she will have a better life that way,
but I'll miss her at the shows.

The Adventures of Missy, the Great Southwest barn kitty.

---
For a comprehensive schedule of horse shows
and clinics around Texas go to:
Texas Horseman's Directory Show Schedule
---
2016-2017 Great Southwest
Equestrian Center's Visitor's Guide.
Click Here.


---





July 2016 issue of
Cowboys & Indians.
MarketPlace ad, unique handpainted cow skull
See more at: Painted Skulls




See my new ad in in May/June 2016 issue of
Cowboys & Indians.
"Madoc All Dun", Welsh Cobb shown in dressage,
owner Michele Miles. Unique patina on bronze,
mounted on black marble. 10.5" x 11.5".
See more at: Portrait Bronzes






See my ad in in Nov-Dec, 2014 Cowboys & Indians.
"Csn I Come, Too" - my first "Western" sculpture.
A cowboy and his cowdog set off for work. Limited
edition bronze mounted on walnut bases. See more at:
Limited Edtion Bronzes






See my ad in in Feb-March, 2014 Cowboys & Indians.
Two of my painted cow skulls. The exposure in C&I
sold "Sunset on Blue", the skull on the right in October, 2014.
I offer painted skulls of horses, goats, deer and pig,
as well as the cows.
Go to: Painted Skulls to see more.
Email for more information.






January, 2014 in Cowboys & Indians.











See my ad in in November/December, 2013 Cowboys & Indians.
New clay model of a cowboy with his cow dog ready for work called
"Can I come, too." Special Pre-casting offer available until 12/30/2013. Email
for more information.










See my ad in in April, 2013 Cowboys & Indians.











See my ad in in Spring 2013 Show & Tell.











See my ad in in 2012 Cowboys & Indians.











See my ad in in December, 2011 Sidelines.








See my ad in in November, 2011 Sidelines.








See my ad in in August, 2011 Sidelines.











See my ad in in June, 2011 Sidelines - For Horse People - About Horse People,











See my ad in Show & Tell, Spring 2011, the new official magazine of
Great Southwest Equestrian Center and
in Sidelines - For Horse People - About Horse People, May, 2011 issue.







---
In 2015 Great Southwest Equestrian Center
published their first
VISITOR'S GUIDE 2015-2016.
It was great! See it here.


---

April, 2010, issue of The Exhibitor,
the previous "Official Magazine for the GSWEC".
Cover art, commissioned pencil portrait of
Dun Gotta Gun, Champion Reining Sire
by Olva Stewart Pharo