"I have never really known which came first: my love of art or my love
of horses." This is how my bio has begun for years with art and horses
sharing an equal part in my life. But over the years it has come to me that
that is wrong. There is no competition. There is no equality.
It is horses that I love. When I create art it is horses, not people, that I see.

From early childhood I was completely captivated by the beauty and grace
of the horse. I was obsessed with horses as many little girls are. I attempted
to capture that passion on paper and in sculpture whenever I had a chance.
The idea of capturing the beauty, power and spirit of each unique creature
never tires for me. That is why I enjoy doing portraits. I like the challenge to portray the spark,
the essence that makes that individual. My goal is to recreate for you your horse as you see him
and feel him.

I have ridden and drawn horses all of my life. My uncle was one of the first breeders of registered
Palominos in Texas. I remember riding his horses as a very small child and the joy it gave me.
I never got over it.


I was raised a "city kid" in Houston, Texas, but my
heart was always in the country. I never owned a horse
as a child but somehow over the years I managed to have
horses to take care of and ride.
After high school, I was fortunate enough to be accepted
to the University of Texas at Austin where I received a
Bachelor of Fine Arts degree in 1969.



Olva at age 1 year on her uncle's Palomino mare, Bonita Mia
being assisted by her father at the family farm in Bay City, TX

In 1970 I returned to Houston where I worked in advertising art, designing logos, brochures
and display advertising for oil companies and banks and other industrial companies
in the Houston area. My heart was always with horses. I started taking hunt seat lessons
and learning to jump, first at Edgepark Stables from Charles Zimmerman and later at
Parish Stables.


For many years I had been enamored with all things British.
In 1975, in a fit of romantic impulse I sold all my belongings (including
my precious MGB) and moved to London. (What was the real reason
Olva moved to England? Have you heard of Dorothy Dunnett?
Learn more here.)
It was the experience of a lifetime. I rode horses and got hired as
the Art Director of a Blood Stock (racing) magazine called
Stud & Stable. Their office was in Ascot and it became my job to
re-design the appearance of the magazine and later to go to
the races, take pictures and report. I learned a lot about journalism
and photography, England and the English. But I could not get a
"green card" so I finally returned to Texas inspired and tested.
STUD & STABLE MAGAZINE






Back in Texas, I started creating logos and advertising for local stables
and equine organizations, such as the Area V USCTA Adult Team (event
logo), the Houston Dressage Society (enhanced logo), the Greater Houston
Horse Council, Windy Knoll Farm show, Pine Hill Farm's original logo and
more.








In 1977 I acquired my first registered horse, an Appendix
Quarter Horse named "Heza Splash", bred in Louisiana for
the race track. He was a 3-year-old and 3 months gelded.
We all know the story of "green horse/green rider". Splash and I
were the epitomy.
It is a long story but we finally got it together. I renamed him
"Calaveras County" after the Mark Twain story. With the help
of a number of very skilled and patient trainers (Terri Beck,
Kevin Cleveland, Keith Merifield and Teri Bludworth to name
a few) we went to a lot of shows and won a lot of ribbons.


Olva and Calaveras County, aka: "Splash"
showing in Adult Hunter Division

This was the 1970s. As I became more involved in the equine community I realized
"the right hand did not know what the left hand was doing"; there was no communication
between the activities and no way of knowing what was going on right around the corner.
(There was no Horse Gazette, no Lone Star Horse Report, no Southwest Horse Trader in Texas.)



In 1980, I took on the job of communicator and started a magazine
called The Horse Sheet. It was the last word, no, the "only word", on
hunter/jumper, dressage & combined training events, shows, and
clinics in Texas, Oklahoma, Louisiana & New Mexico.
I published The Horse Sheet for 6 years from 1980-1986 as fulltime
editor, photographer and journalist following Texans to horse shows
from Arizona to Florida. But bad times in the "oil patch" were coming.
In 1986 I was forced to seek bankruptcy along with a number of my
advertisers and many other unfortunate Texans. (You think 2009
was bad!) It was another learning experience; I learned a lot about
photography and journalism and the horse show scene.

In 1980, I also started The Stable Farm & Trainer Directory which I later re-named the
Texas Horseman's Directory, that I still publish online. 2020 marked its 40th Anniversary.
You can find the Texas Horseman's Directory online at: www.texashorsemansdirectory.com.

I carried on for a while as a freelance photo/journalist writing articles and reporting on horse
shows and events for The Chronicle of the Horse, Dressage & CT, Horseman, HorsePlay,
The Horse Digest and Horse Illustrated.

In 1986 the first titled Olympic Festival was held in Houston with the equestrian events at the
Great Southwest Equestrian Center, Katy. My report was published by The Horse Digest.

In 1987 I became Assistant Editor of Horseman Magazine. It was the second largest horse
magazine in the U.S. It was published in Houston, Texas, by Scripps Howard Publishing Co.
along with a number of sport oriented publications. I reported on the top Quarter Horses in
Texas. Got to cover the Quarter Horse Congress and do three (3) really nice cover photo shoots.
When Scripps sold the magazine and a new editor took over I decided it was time to go.

After that I took a hard look at my life. I decided I had forgotten to have kids. It took a few
years but we made it. My beloved horse, Calaveras County, died the same year.
Now I was horseless and in semi-retirement as a fulltime mother.

One day in 1993, I sat down to see if I could still draw. I had been attending a few horse
shows just taking photographs. Using one photograph as inspiration, I created a pencil
drawing of an idealized Grand Prix dressage horse. Using a framed print of this drawing as
an award, I created the "Calaveras County Adult Amateur High Point Award" to be presented to
the Houston Dressage Society adult amateur member competitor at the annual Houston
Dressage Society Spring Show. (2019 marked the retirement of this trophy after 27 years of winners.)

How it all began:
The following year I used a another framed print for the 1994 Calaveras County Adult
Amateur High Point Award but this time the drawing was an actual portrait of a particular horse
still in competition. A competitor walked up to the drawing and said, "Is that Adelssohn?"
She had recognized the horse from the drawing, the Trakehner Stallion, Adelssohn, owned by
Hans Jurgen Boone.
Then she asked:
"Can you do a portrait of my horse?"
My dear friend, Betty Chesnin Freideau spoke up, "Yes, she can!"
And that's how "Equestrian Portraits by Olva Stewart Pharo" was born. The idealized
Grand Prix horse drawing, "A Kind Eye", became my logo.



In 1997 I was asked by the Texas Hunter Jumper Association
(THJA) if I would create a drawing for the United States Equestrian
Team (USET). The new USET President, Dede Alexander, was a
Texan and a King Ranch relation to boot. They asked me to create a
drawing with the King Ranch main house in the center with
representatives of the 5 major Olympic equestrian events.
I was named the Official Artist for the United States Equestrian
Team Texas Endowment Campaign.
"A Very Special Evening at the King Ranch," became the
title of the 18" x 24" graphite pencil drawing.
It was auctioned April 19, 1997, at the gala fund raiser for the
USET Texas Endowment Campaign at the King Ranch in Kingsville. It was purchased by
a member of the King Ranch family and joined the ranch's art collection.
It was an amazing opportunity to be inside the King Ranch main house. I was asked to set up
my art in what they called "the dining room". Around the walls were official B&W race photographs
of their famousrace horse, Assault, winning the Kentucky Derby, the Preakness and the Belmont.
In the center of the dining table sat the Triple Crown Trophy, the most coveted trophy in all racing.
Made me proud to be a Texan.

Over 300 individual commissioned pencil portraits later, I renewed my passion for sculpture
by returning to bronze casting in 1999. (In 1968, at the University of Texas, I was one of two
students to build a foundry and cast a bronze under the guidance of Ishmael Soto. We were
the first UT@Austin students to work in bronze in over 25 years.) Today I offer sculptural
portraits of horses, dogs, cats and their owners/riders in bronze.
(See examples of sculptural portraits and limited editions in bronze and resin.)

In 2001, inspired by the "Cow Parade" I started Horses of a Different Color" giving new life
to old Breyer Horses by painting and reshaping them to new and various designs.

I have gone farther with them now creating "Exotic Horses" with Ancient Egyptian,
Assyrian and Ancient Greek themes. I even offer custom portraits on Breyer Horses.

Portraits are always my main area of concentration. Making a portrait of a beloved pet, be it
horse, dog, or cat, is very rewarding. The pleased and happy look on the face of a client or
the kind words in an email or letter make the challenge all worth while.

In 2005 work truly took off for me. I was gratified and overwhelmed by your commissions
and your attraction to my art. So was my immune system. In May of 2006 I came down with
Shingles and my life has never been the same. Shingles put me flat on my back for
6 months and took my energy away.




In 2008, Melanie Pai of Canaan Ranch,
(now in Virginia) asked me to create
a pair of trophies for her to present to
Dressage At Devon for the "Born In The USA"
program. I was to create one for the best stallion
and one for the best mare. They became the
Dr. Robert Miller Memorial Perpetual Trophies
and are awarded annually.



By the end of 2008, I was on my way to catching up. Many who had been waiting so
patiently were now seeing their commissions delivered. With that in mind, I returned to the
horse show scene in the fall of 2009. I managed to make it to Pin Oak and The Spring
Gathering and the National Reining Breeder Cup.

Then in the summer of 2010 it all came apart. My brother died, unexpectedly, while on safari
in South Africa. It turned my life upside down. I was unaware that he had made me Executrix
of his estate. My life became a series of lawyers, accoutants, bankers and real estate agents.
I did not make it to any 2010 fall shows.

In 2011 I thought I could get back to normal and made plans to attend the spring shows: Pin Oak,
The Spring Gathering, NRBC and the Houston Dressage Society Spring Shows.
Everything was in place to set up my booth at these shows. Then just as Pin Oak was getting
started my mother fell ill. She died March 27, 2011, at the age of 97. Never did I expect to
loose my mother and my brother in less than a year. We truly can not predict what life has
in store for us.

Early in 2012 my father-in-law died naming my husband executor of his estate. I made it to
Pin Oak and The Spring Gathering. Being completely stressed out I had to take some time off.

In 2011, Georgia Griffiths of Encino, California, commissioned a perpetual trophy
for the Del Mar National Dressage Show held each spring. The trophy is called the
Two Dancers Perpetual Trophy, commissioned by G2 Software, Ms. Griffiths' company,
to be awarded to the winner of the Grand Prix Musical Freestyle Class. The first winner
in 2011 was Steffen Peters on Ravel. But the actual bronze trophy was not be ready in
time. It would not be ready until 2012.
As a bit of a vacation, I flew out to Del Mar in April, 2012, to present the trophy for the first
time. Steffen Peters won again, this time on Legolas 92. Ravel was being saved for
the Olympics. It was a wonderful opportunity for me to meet some interesting people and
forget all that was going on at home for a few days.

With 3 estates to settle and 3 houses to sell, life became complicated.

2013 became a time of renewal. Pin Oak and The Spring Gathering went off to gray skies
and cool breezes. Winter just did not seem to want to go away. Met a lot of new people at
Pin Oak. Lots happening in the horse show world. Good to know there are as many fine horses
and riders coming on.

2014 found me at Pin Oak for two weeks and The Spring Gathering. It is always fun to see
everyone after a year away; catching up with what has been happening. Met the Waller's of
Beaumont, owners of the A Winter's Tale star, Listo.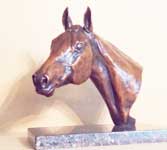 Best of all, I met Jennifer Alfano who introduced me to Jersey Boy,
Champion Hunter Derby horse. Ms. Alfano commissioned this bronze
portrait of Jersey Boy as a gift to his owner, Susan Schoellkopf of
SBS Farms.See Jersey Boy's bronze portrait.









I donated a special bronze, "A Bond Beyond", to SIRE -
Houston's Therapeutic Riding Centers in May, 2014 for their Spring GALA.
The sculpture was auctioned at the Gala to benefit SIRE. Limited editions
of this sculpture are available now with a portion of each sale going to benefit
the therapeutic riding center of your choice.
See more about this sculpture here.
For more information about SIRE click here.


"A Bond Beyond" was my first bronze that included a human figure. It worked out so I ventured
on to "horse & rider".

Ten (10) years ago I had started a sculpture of a cowboy on a horse based on old photographs
of my uncle. In 2013 it was finally finished. I call it: "Can I Come, Too!".

"Can I Come, Too!", is a sculpture of a cowboy and his dog
about to go to work herding cattle. It is basically my uncle,
L. L. Stewart, on his Palomino mare, Bonita. She was the first
horse I ever rode (see photo at top of page) and he was the man
who put me on her.
A lovely lady in California saw my ad in Cowboys & Indians
picturing the clay model and saw the same emotion in the
sculpture that I did and wanted it.
A limited edition of 10 is now available for sale. See Bronze.



In 2012 I read about the creation of the US Dressage Finals, the first
head-to-head championship since the creation of USDF Regional Finals.
It was a chance for dressage competitors to be recognized nationally for
their skill. I wanted to support this show in the best way I could by creating
a perpetual trophy. And the ultimate class, to me, is the Adult Amateur
Grand Prix Musical Freestyle.
After much correspondence with USDF the Calaveras County
Perpetual Trophy, US Dressage Finals, Grand Prix Freestyle, Adult Amateur
Champion was born.
After two (2) years of work the trophy was presented at the US Dressage
Finals on Friday, November 7, 2014 at the Kentucky Horse Park in Lexington, KY.
And on Saturday, November 8, 2014, the first recipient was Janne Rumbough
of Palm Beach, FL, riding her PRE gelding, Junior.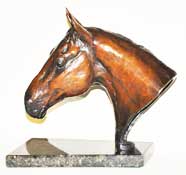 At the 2015 Pin Oak Charity Horse Show I got the opportunity to
create a bronze portrait of another Hunter Derby Champion, Candid,
owned and shown by Jennifer Alfano. Candid was a lovely and
cooperative model. See more photos.









Shortly after I started on the US Dressage Finals trophy, I was commissioned
by Tina Wentz to create a memorial trophy for her son, Jonathan, to honor
Para-Equestrian competitors. Work began on the Jonathan Wentz Perpetual
Trophy in 2013. The trophy was presented to the United States Para-Equestrian
Association November 29, 2015 at the US Para-Equestrian Championships at
the Great Southwest Equestrian Center in Katy, TX. The aim was to honor the
U.S. Para-Equestrians who achieve the highest level of competition in
Dressage, Driving, Reining or Vaulting.
Jonathan Wentz competed in dressage at the 2012 Para-Olympics in London
where he was the highest placed American competitor barely missing the Bronze
Medal. Sadly, Jonathan passed away on September 30, 2012.
I never met Jonathan but worked with Tina Wentz and photographs of Jonathan and
NTEC Richter, his mount, to create this bronze trophy. The trophy was designed to inspire others
to meet their highest challenges. See Finished Bronze



2020 has been the worst year ever. COVID-19 pandemic. It started out great
and went downhill fast.
I got to present a new trophy at the premier of the $100,000 Lone Star State
National Grand Prix held at the last week of the Texas Winter Series
the last week of the Texas Winter Series at Great Southwest Equestrian Center.
We thought to create a more abstract design for the event.
I came up with with a stylized jumping horse and rider over the Star of Texas.
I am looking forward to presenting the trophy again in 2021.








---
Commissions and Special Awards and Trophies Olva has been involved with:

* 1996 - Official Portrait of the Border Fiesta Grand Prix, graphite pencil portrait
(18" x 24") "Peter Pletcher and Uncle Sam", now in private collection.

* 1997 - Official Artist for the United States Equestrian Team Texas Endowment
Campaign, "A Very Special Evening at the King Ranch," graphite pencil drawing,
18" x 24", auctioned at this gala fund raiser at the King Ranch in Kingsville.
It was bought by a member of the King Ranch family and resides at the ranch.

* 1997 - "A Labor of Love", graphite pencil drawing, 18" x 24", is a special drawing
donated to SIRE Therapeutic Riding to honor the dedicated volunteers.
Sales of prints and note cards still benefit S.I.R.E.
Original drawing in private collection.

* 1997 - drawing "A Labor of Love" appeared on the cover of
"The Chronicle of the Horse"

* 1998 - commissioned to do the cover art for the 51st Pin Oak Charity Horse Show, program, colored pencil drawing of past POCHS champions, 18" x 24". The design was used for prints, posters and t-shirts. A portion of the proceeds benefited the Ronald McDonald House of Houston.

* 1999 - drawing "Ribbon Guard", appeared on the cover of "The Chronicle of the Horse" one of the few cats to ever appear on a Chronicle cover.

* 2000 - commissioned to create a trophy for the Texas Dressage Classic, held annually at Las Colinas Equestrian Center in Irving, TX. It is awarded annually to the high point amateur at the show. The first award was given April 29, 2001.

* 2000 - drawings featured on the cover of the "Lone Star Horse Report", the portrait of "Gigong, the Elite Hanoverian Stallion".

* 2000 - "Gigong's" portrait along with a portrait bronze of "Pintus, an Irish Hunter" appeared in an article on equine artists in "Horse Illustrated".

* 2002 - commissioned by Positive Step Farm to create a perpetual trophy for the Detroit Dressage Society, Detroit, MI. Awarded annually with plaques.

* 2003 - drawing called "A Colt, a Bucket and a Big Red Barn" appears on the cover of "Lone Star Horse Report".

* 2003 - "Gucci", a bronze portrait of Canaan Ranch's champion dressage gelding, was awarded the Equine Visions Choice Award for sculpture in the Equine Art Guild's Annual Show and was featured in Equine Visions Magazine (now called "Horses in Art").

* 2004 - created the "Calaveras County Lifetime Achievement Award" for the Greater Houston Hunter Jumper Association, to be awarded annually to the GHHJA member who has made a significant contribution to the club and horse showing in general

* 2004 - commissioned portrait of Jennifer Price's horses appeared in an article on equine artists in Horse Illustrated showing how such a drawing of two horses together was created.

* 2005 - created the "Calaveras County Perpetual Trophy" for the Annual Pin Oak Charity Horse Show. In 2005 and 2006 awarded to the winner of the $5000 Adult/Junior Gamblers Choice. Since 2007 it has been awarded to the winner of the $20,000 Children's/Adult Jumper Classic.

* 2005 - Reserve Champion Adult Division, "Tricked Out Pony Contest", 50% of proceeds to animal shelter groups, contest to make a Peter Stone model horse into a "Tricked Out Pony".

* 2005 - colored pencil drawing "Farrier's First Horse" appeared in December, 2005, EQUUS magazine as an illustration for an article on new horse owners.

* 2007 - Created Jane Queener Perpetual Trophy Best Young Horse Award to be presented annually at The Spring Gathering Hunter Jumper Show (now the 3rd week of Pin Oak Charity Horse Show) held each April, Katy, TX

* 2008 - Kickin' Cancer Out of Texas, benefiting Cancer Couceling, Inc., Boot Painter - January 10, 2008

* 2008 - RESS Bas Relief Exhibition - 2nd ("A Kind Eye") & 3rd Place ("Hunter Head") Advanced Sculpture Division

* 2008 - Mural Mosaic Project: The Cadeau de Chival - The Gift Horse

* 2008 - Dressage At Devon Born in the U.S.A. Breeders Award High Point Stallion Trophy, Dr. Robert Miller Perpetual Trophy & Dressage At Devon Born in the U.S.A. Breeders Award High Point Mare Trophy, Dr. Robert Miller Perpetual Trophy commissioned by Melanie Pai of Canaan Ranch.

* 2009 - Kickin' Cancer Out of Texas Benefitting Cancer Couceling, Inc.,
"Hardest Workin' (Most Creative) Boots

* 2009 - drawing called <"White Horse on Klimt" appears on the cover of the May issue of "Lone Star Horse Report".

* 2010 - Sandy Hager Memorial Sportsmanship Award for the Greater Houston Hunter Jumper Association

* 2010 April - cover art of "The Exhibitor", the official publication of Great Southwest Equestrian Center, portrait of Jerry Kimmel's Champion Reining Stallion, Dun Gotta Gun.

* 2010 June - SADDLE UP FOR NAM fibrglass horse project: chosen as artist to paint 2 fiberglass horses as fundraiser for the Northwest Assistance Ministries of Houston, TX. See completed "Colorado Kid" For more information on NAM see: www.namonline.org/

* 2011 - Commission: a perpetual trophy, Two Dancers Perpetual Trophyfor the
Grand Prix Musical Freestyle at the Del Mar National Dressage Show,
Del Mar, CA. Presented in 2011 to Steffen Peters on Ravel.

* 2011 - Creation of an Adult Amateur High Point Award for the new Diamond and Platinum Dressage Show Series at Great Southwest Eq. Center, Katy, TX

* 2012 - Commission: a perpetual trophy for Potomac Valley Dressage Club

* 2013 - Commission for United States Para Equestrian Association International Achievement Award - Jonathan Wentz Memorial Trophy - fund raiser

* 2014 - SHINE BEST YOUNG HORSE PERPETUAL TROPHY, sponsored by Olde Oaks Farm, Inc. and Vickie Hunton for Texas Hunter Jumper Association

* 2014 March - received commission to create a bronze portrait of Jersey Boy, International Hunter Derby Champion for Jennifer Alfano

* 2014 - A BOND BEYOND, a bronze sculpture dedicated to SIRE Therapeutic Riding Centers of Houston, TX - donated to the 2014 SIRE GALA, Live Auction, May 3, 2014.

* 2014 - USDF Region 9 fund raiser - Limited Edition T-shirt Design

* 2014 - US Dressage Finals, Lexington, KY - delivered the new Calaveras County Perpetual Trophy for the US Dressage Finals, Grand Prix freestyle Adult Amateur Champion - one of three (3) perpetual trophies dedicated to the Finals

* 2015 - US Para-Equestrian Association, presented the Jonathan Wentz Memorial Trophy at the USPEA Championships, Nov. 29, at the Great Southwest Eqiestrian Center, Katy, TX

* 2016 - Oklahoma Dressage Society, Bee Pape Memorial Trophy for High Point Junior/Young Rider presented at the ODS Spring Dressage Show, May 7.

* 2020 - The Lone Star State National Grand Prix bronze trophy, presented to Great Southwest Equestrian Center, Saturday, February 22, 2020 at the $100,000 Grand Prix before COVID-19 shut everything down. USEF developed strick rules of mask wearing & social distancing for the shows to continue.

* 2021 - Presented the Lone Star Trophy the second time under COVID-19 rules. Some shows just canceled rather than go on with no spectators or vendors.



---

Olva Stewart Pharo, artist & horsewoman -
Bachelor of Fine Arts, University of Texas at Austin, 1969
Houston Dressage Society (HDS), member since 1979
Greater Houston Hunter Jumper Association (GHHJA), member since 1984
Founding Board Member of the Greater Houston Horse Council,
newletter editor, 1993
Equine Art Guild (EAG), 1999-2010
Realistic Equine Sculpture Society (RESS), since 2007-2010
Texas Society of Sculptors (TSOS), since 2013


---
COLONEL JOHN RUSSELL,
February 2, 1920 / September 30, 2020

So sad to announce the passing of
a legendary horseman and trainer.
Olympian, winner of the Aga Kahn Trophy,
The Edward Prince of Wales Trophy,
The Prize of Nations, The Prize of Paris,
the Hamburg Spring Derby and
honored by much more.
Maybe Wikipedia says it best.
John Russell (equestrian)
---
Andrew K. Currie, VMD

Doc was born August 11, 1939 in Philadelphia, Pennsylvania. He passed away May 3, 2019, at home, after a long fight with cancer. He was preceded in death by his parents, Andrew and Isabel Currie. He graduated from the University of Pennsylvania with his Doctorate of Veterinary Medicine in 1963, after completing his undergraduate studies at Rutgers and Colorado State University. Upon graduation he moved to Houston, Texas to pursue his specialty in Equine lameness and medicine.
He met his wife to be, Sandy Thompson. After completing a year in Houston he had the opportunity to move to Lexington, Kentucky to work with one of the pioneers in Equine Orthopedic Surgery, Dr. D. L. Proctor. In 1966, he and Sandy were married and she joined him in Lexington. Although they enjoyed their time and his great experiences in Kentucky they yearned to return to Texas and open a private practice. Doc and Sandy bought a farm in Northwest Houston where he opened the Currie Equine Clinic.
It was because of his work ethic and dedication to his patients that he felt like he had to live at the clinic. His philosophy was "work hard, critique your work, always make sure you surrounded yourself with good people, put the horse first and always treat your clients like you would like to be treated." He loved the sport of rodeo and while treating many of the top athletes, he was able to further his own personal ambition of roping. Doc had a great eye for a good horse. He credits his ownership of some nice horses to the association with good horsemen. Together Doc and Sandy owned the NCHA World Champion Cutting Horse, "Sugar Vaquero". They owned a Reserve World Champion Team Roping Horse, partners on a World Champion Calf horse and more.
Doc and Sandy moved to Llano, Texas in 2016 to start a new chapter - semi retirement. He finally had the opportunity to spend more time in the roping pen. Doc dedicated his life to serving the equine industry. He treated all of his patients the same, no matter their discipline or their cost, from the back yard pony to the elite equine athlete. His integrity, ethics and honesty made him a standout in his field. Because of that he served on the Board of Directors of the AAEP, served on numerous committees for the AAEP and TVMA, was past chairman of Equine Committee for the TVMA, on Board of Directors for the Texas Horse Racing Association. Member of AVMA, TEVA, AQHA, PRCA, Life member and Life time committeemen of Houston Livestock Show and Rodeo.
Doc was inducted into the 2012 Texas Rodeo Cowboy Hall of Fame. Long standing Official Veterinarian for the Tejas Vaquero's - Friends for Life.
Doc was not one to judge. He would council only if you asked but would never judge you. The friendships he formed over the course of his life are treasured by those fortunate enough to have known him.
He is survived by his wife of 52 years Sandy, his son Kelso and two grandsons, Kade and Kameron, Cathy Cribbs his right hand and faithful assistant of 39 years, Kathy Stoops faithful secretary of over 20 years.
A memorial service will be held Wednesday, May 8, 2019 at Waldrope-Hatfield-Hawthorne Funeral Chapel in Llano, Texas at 1:00 P.M. with Richard Vandventer officiating.
In lieu of flowers: donations made to Hill Country Memorial Hospice P.O. Box 835, Fredericksburg, Texas 78624 / St Jude's Hospital / Charity of your choice.


---


Saying "Goodbye" to a friend. . . . .Phil Sawin

The Texas equestrian community lost a great supporter on March 18, 2011. Phil Sawin died from
non-horse related injuries at his Pine Hill Farm in Bellville, TX on Friday. Phil leaves behind a legacy of
hard work and a passion for the Olympic side of the sport. He built the first cross country course in the
Greater Houston area. He had the only field hunter course around. Phil hosted hunter/jumper shows,
dressage shows, driving events, pony club rallies and twice a year a USEA recognized event.
This has been a personal loss for me. Phil goes back to the very beginning of my involvement with
"english" riding. My first hunter trainer was a friend of Phil's and took us on riding excursions to Pine Hill
Farm in its infancy. I saw it grow from a weekend project into a way of life.
Phil became a friend and Pine Hill a constant destination for horse shows. I competed in hunter/jumper shows at Pine Hill in the 80s. I was once unceremoniously rubbed off on one of those beautiful pine tree limbs by my high spirited Calaveras County.
It was at a Houston Dressage Society show in 1994 that my career as an equine portrait artist began. The year before I had created a high point award for the Houston Dressage Society with a print of a idealized dressage horse head (now my logo) as the award. In 1994 I used a photograph of Hans Boone's stallion, Adelssohn, as the model for the first Calaveras County Adult Amateur High Point Award. The award was a framed print of my pencil portrait of Adelssohn and was displayed at my booth.
A competitor walked up and said, "Is that Adelssohn?" The likeness was strong enough that she recognized him. Then she asked, "Can you do my horse?" The rest is history. I made 6 portraits at this competitor's barn and my new career grew from there.
If I had not made the portrait from a photograph I took at a dressage show at Pine Hill and if I had not had a booth at the HDS show at Pine Hill, Equestrian Portraits may never had gotten started.
(I had my first Blizzard at the DQ in Bellville in 1985. Things we remember.)
I designed Phil's Pine Hill Farm logo using one of the large pine cones from those beautiful trees as a model. In the Fall of 2010 Phil asked me to design a new sign for Pine Hill to go on his barn. It was to be cut out of metal. You can see it on the Pine HIll website.
Pine Hill was always a fun place to go to. Phil always made everyone feel at home. He was like my second older brother, the one who loved horses. I had no idea how close that was. My brother was born on August 8, 1942 just 2-1/2 months before Phil. My brother died June 21, 2010. He never liked horses.
My life took another path and I stopped showing and did not visit Pine Hill much but whenever Phil saw me at a show at Great Southwest he was always ready with a grin and a hug. I was so happy he found Ruth to share his passion and had Ellie. He had a wonderful life and will be long remembered for what he did for the horse community and his fellow horse lovers.
A memorial fund has been set up to assist in maintaining Phil's legacy of Pine Hill Farm. To contribute send a check payable to: "Phil Sawin Memorial Trust Fund" and mail it to: Sterling Bank, Phil Sawin Memorial Trust Fund, 15000 Northwest Freeway, Houston, TX 77040. Please enclose a note with the check as to the fund you wish to contribute to.

---
---




For more things of interest to horse people: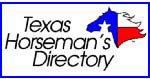 Last update: 3 March, 2022